"APOLLO" - a.k.a. Red Collar Boy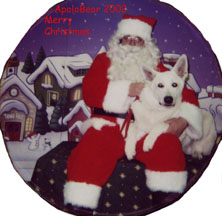 Update: Saturday, December 07, 2002
Subject: Success!!!
Just a quick note to fill you in on the latest -- what we have been up to... On November 21st, X-rays taken for PennHip and OFA on Apollo. Both organizations indicated his hips are Good! AND........ Today!!!!!!!!!!!!!! APOLOBEAR (a.k.a. APOLLO) earned his CGC!!!! At 9 months of age..... Way to go, Apollo! (Submitted by Apollo's Mom)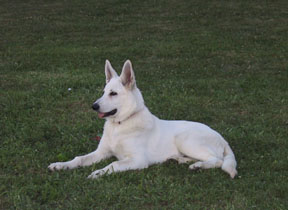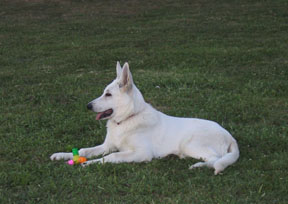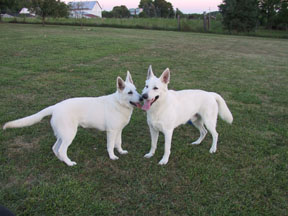 August 7, 2002 Update: "Here are a couple of photos for you of Apollo. You can see in these photos how much he has grown. He's a darling baby and I can't get over how much I love him. Hope you enjoy the photos! You can add them to your collection! Love and hugs, di"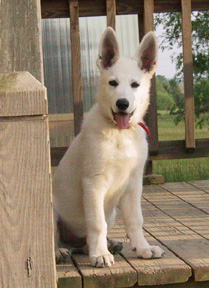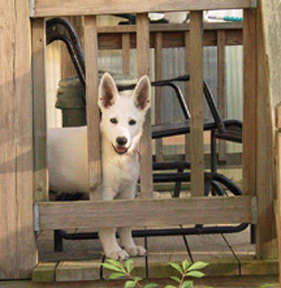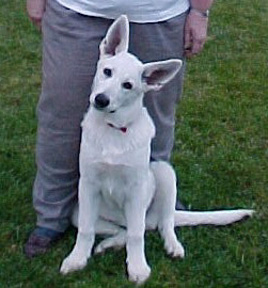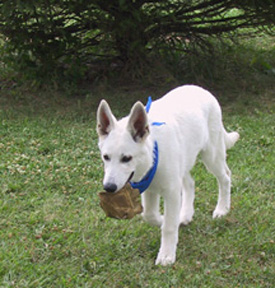 July 31, 2002 Update: "I think the two photos of Apollo at the railing on the deck will ALWAYS be my favorite photos of him. He's about double in size now...... I would think he weighs in around 55 lbs (or a bit more) now. Just over two weeks ago, he weighed in at 51.1 lbs.... He's so smart and such a happy boy. He sleeps with me each night and waits for me to get up in the morning before he gets up. He has NOT had an accident in eons.... and I mean, eons. He is such a love... and still gets up on my lap to give me loving when I get home from work. I so adore him... Please give your big guy, Polo, a huge hug and kiss for me. I am so glad that he's produced such great pups. And judging from my ApoloBear, he definitely produces the GREATEST puppies!!!!!! Thanks to you as well.... Luv and hugs to you and your gang!" - Di Starr, ApoloBear, Dakota GhostShadow, Rainee Daze, Skye and Cheyenne -- oh, and Marc too! (Ohio)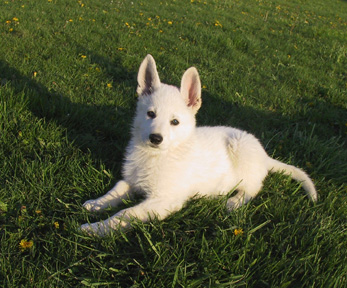 "This is one of my favorite puppy pictures! -Grandma Diana"
---
---
For more stud service information and/or puppy referrals, please contact:
Diana L. Updike
email: vontasz@yahoo.com
---