Von Tasz Shepherds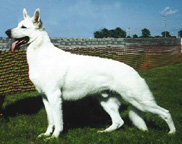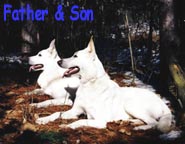 BISS WGS/AWSA CH U-CD OSCAR WINSLOW VON TASZ, CDX, TDI, CGC, HC, OFA (H&E)
1992 - "Dorothy Crider Personality Puppy"
1993/1994 - Top Ten Best of Breed winner
1994 - Certified Therapy Dog
1998 - Cover of UKC's Bloodlines magazine
1999 - WSCC National BEST OF BREED
2000 - Earned AKC CDX (8 years old!)
Notably, Oscar is the Sire of "Jack", BIMBS WGS/UKC CH, U-UD VON TASZ' JACK OF ALL TRADES, UDX, TDI, HC, OFA(H&E), the highest obedience titled White Shepherd in history!



March 11, 1992 - March 20, 2003
"Reminiscing": I am the breeder of Oscar so I easily can recall his birth. There were 7 pups - 5 girls and 2 boys. I did the breeding to keep a girl but, guess what? Oscar's personality tugged at my heart so much that I let all of the girls go and I kept him! I was thrilled when he captured the "Dorothy Crider Personality Puppy Award" at the 1992 Nationals in Florida. (The little stinker grabbed the tennis ball from the judge and then he pranced down the line of pups, teasing them with his "prize"!) Oscar was a "smiling fool" and right up to the end acted like a pup when he was out in the yard with his favorite ball. He was also my one and only dog that, literally, would stop on a dime and come to you when called - wagging his happy tail the entire time, Oscar will be dearly missed but a part of him will always live on in my heart and in the generations that follow him.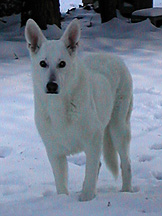 Oscar pictured at 11 years old.