Von Tasz Shepherds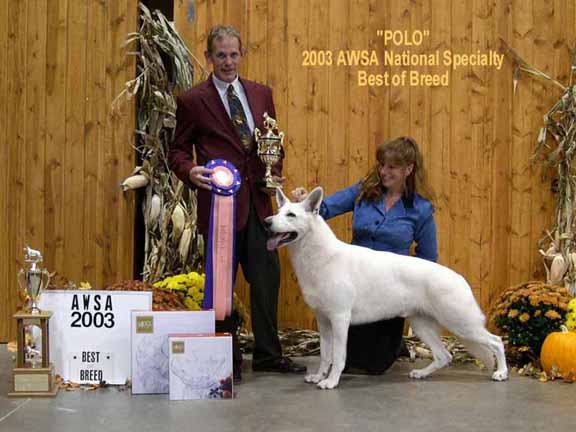 Polo x Shadow
Puppies born January 2004!

This combination produced lots of bone substance, beautiful large head pieces, pure white coats, and great pigment!
Shadow is a well built girl with excellent bone substance. She is pure white and has good pigment including very dark eyes and a few black toenails. What I loved about her most was her wonderful, good natured temperament and calm disposition. When she first came into our home, she was perfectly content! Notably, a mother's personality has the biggest influence on the pups. Shadow's first litter with Polo turned out exceptional and I still hear from several of the puppy buyers on a regular basis. I can only assume that this repeat litter will again produce exceptional family companions!
* * * * * * * * *
If you are interested in an excellent family companion, show and/or performance prospect, then this is your answer!
Contact Shadow's owner:
DEB HOFFMANN
Hoffmann Stables and Equine Reproduction Center
Email: Hstables@rconnect.com
Address:
RR 3 Box 78
Preston, MN 55965-9044
Phone: (507) 765-2250