Von Tasz Shepherds
"TASZ"
Tasz is the very heart, sole, and foundation of "Von Tasz". She was THE one that jump started me into obedience, conformation, and everything else that followed!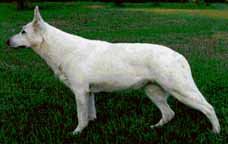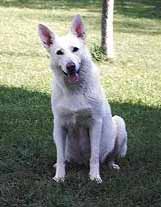 Pipoly's Little White Tasz, CD, OFA

Major Pointed
1988 Nationals Reserve Winners
October 1, 1981 - December 1, 1988

March 5, 2003 "Reminiscing":
Tasz was affectionally known as "Tazzy-Toad" because when she was a pup, she would get so excited to see you that she would "pee like a toad"! She was also extremely athletic and, boy could she jump. I recall the day Tasz and I were walking through a house being built and she went upstairs to the second floor to explore. I exited the house and called for her. She appeared in a 2nd story windowless pane and JUMPED OUT! (She landed perfectly fine.) Tasz and I were doing Agility before it was even a sport. She loved to jump up on "the Monster" (a HUGE partially sunken large equipment tire), do the teeter-totter, mimic the dogwalk, etc. We had many good years together and she blessed me with her son, "Moses".

Postnote:

On December 1, 1988, Tasz was suddenly taken from me. I took her in to be spayed knowing that with every surgery there is risk but never dreaming that something could happen to her. To my devastation, due to surgery complications, she past away shortly thereafter. On that day, I believe my precious little girl earned her wings.